I was so happy to get a chance to review
In the Reign of Terror
from
Heirloom Audio Productions
, a company that loves to retell moments of Christian history. I was also given access to the
Live The Adventure Club
online. As you probably know, I didn't, "The Reign of Terror" refers to a period during the French Revolution and Heirloom Audio Productions took G.A. Henty's story about this time in history and presents it as an audio drama. The audio drama was written by Bob Liparulo. Don't be alarmed and scared off because of the title. While the story tells of a time in history that was terrifying for Christians, the end result is that "What man intended for evil, God intended for GOOD!"
I also received a Study Guide downloadable pdf which is designed to be used alongside the audio drama as a tool to help your students delve deeper into the topic. It contains 43 pages and is broken down by chapter into 3 main segments:
The Listening Well
The Thinking Further
The Defining Words
Some pages even have an Expand Your Learning sections with additional activities. Each study guide page also contains the disc, track number, and time markings where you will find the information on the audio.
There are also a couple of brief biography pages on Marie Antoinette and Maximilien Robespierre and an overview of the story and information about G.A. Henty.
The end of the Study Guide contains a reading list to learn more about the French Revolution as well as 3 pages of Bible Study notes and questions, which was my favorite section.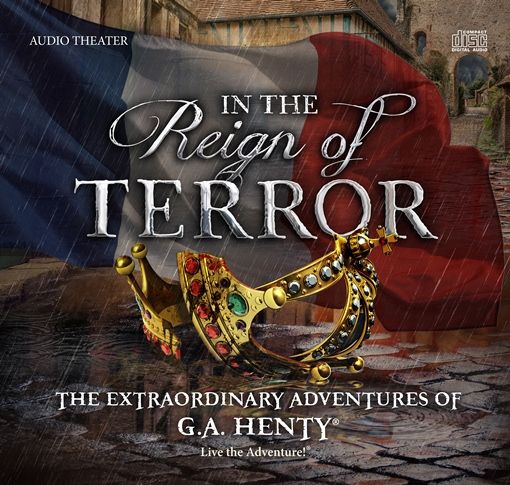 What is the PRODUCT?

Heirloom Audio Productions produces audio dramas to tell the stories of history and make it come to life for those who listen. This particular story is intended for those ages 6-16, but can be enjoyed by those older or even younger if you are listening as a family.
The story takes place in the time frame that occurred after America's Revolution and before Napolean during the French Revolution. The story begins with a 16-year-old named Harry who strikes up a conversation with an older gentleman at Arlington Ceremony. This elderly man shines light on a time in history he refers to as "A Reign of terror". He tells the story of another teen boy named Harry who lived through this era.
The CDs contain the amazing voice acting of Brian Blessed, John Rhys-Davies, Jack Farthing, Cathy Sara, Christina Greatrex, and Jill Freud.
The story tells of a British boy, Harry, who travels to an aristocratic family to experience a cultural clash. The underlining message is about sovereignty. Throughout the story, you will see how the sovereignty of God is replaced by the sovereignty of man. It is a battle, fighting for righteousness and the freedom to worship God. It is also a story about family and friendships.
I received a 2-CD pack of the entire audio dramatic reading of G.A. Henty's
In The Reign of Terror,
which is derived from a 22-chapter book and takes a total of about 2.5 hours of audio drama to complete with each chapter lasting an average of 5 minutes or less. I also received access to online resources.
How Did We Use It?
I first told my 16-year-old son what the product was and began playing the audio for him but later my 10-year-old also was exposed to it. I was delighted to also discover that along with our 2 CDs we were given access to the online resources, which are amazing! This is where I found online chapter tests, vocabulary words, a script to read along, suggestions for further study, as well as a pdf download of the original G.A. Henty's original 278-page book, which was a delight to me! This Live The Adventure online spot was a gold mine of information and the perfect supplement.
As you can see, our tendency to be more hands-on or visual learners than audio is reflected in the online chapter quiz, but I really appreciated that you immediately know the right answer when you get one wrong. These quizzes are also a nice way to provide your student with a grade if you want.
What Did We Think?
First, I have to admit that I was not only unfamiliar with G.A. Henty's works but also new to audio drama. So, this was a completely new experience for us. Because of that, it was enlightening and extremely educational. The actors' voices are amazing and spot on for each character. Second, I will also say that for some strange reason, we are odd homeschoolers in that my kids will typically scatter or roll their eyes when I present them with the idea of anything audio. Typically, my children tend to be avoid anything audio kids (The struggle is real! This is one point where I tend to compare my homeschoolers with others and wish they had a natural love for audio learning. If they did, we could put in CDs to play while we are in the van and on the road or while we wait or just to enjoy a nice quiet audio at home). I have tried reading aloud to them, and their eyes glaze over not having a clue what I just said. However, even my son admitted that the quality put into it was "best". Any lack of love for audio on my family's part is purely our own individual issues and have nothing to do with the excellence in quality that heirloom audio productions has put into their product. And, in fact, for me to sing the praises of the quality of an audio product screams levels above that of a family who naturally enjoys audio learning. On a side note, I also found it interesting that just before this product came up for review, I had read a passage in the Bible from Ezekiel that used the exact words, "In the Reign of Terror" and, while it was not referring to the French Revolution, I came into this with curiosity piqued and ready to learn what the story was all about.
While the quality put into the audio CDs is amazingly good, I really found the online resources to be a fantastic addition to correspond with the drama. Overall, I was extremely impressed!
FIND HEIRLOOM AUDIO PRODUCTIONS ON SOCIAL MEDIA @:
Read what other members of the Homeschool Review Crew thought by clicking on the picture below: