So, the phrase - "It's all Greek to me" was probably written by my family, making us the perfect test students for a Greek curriculum, so needless to say, I was thrilled to get a chance to review
Hey, Andrew! Teach Me Some Greek! - Level 3
Set from
Greek 'n' Stuff
, which is intended for students approximately 4th Grade and older, written by Karen Mohs.
Other Homeschool Review Crew members got a chance to review:
Hey, Andrew! Teach Me Some Greek! - Level 2
Set (Good for students as young as 2nd Grade)
I Can Study Jonah & Ruth Alone With God Bible Study (13 week study)
KJV
NIV
I Can Study Esther Alone With God Bible Study (13 week study)
KJV
NIV
I Can Study I Samuel Alone With God Bible Study (39 week study)
KJV
NIV
I Can Study Acts Alone With God Bible Study (52 week study)
KJV
NIV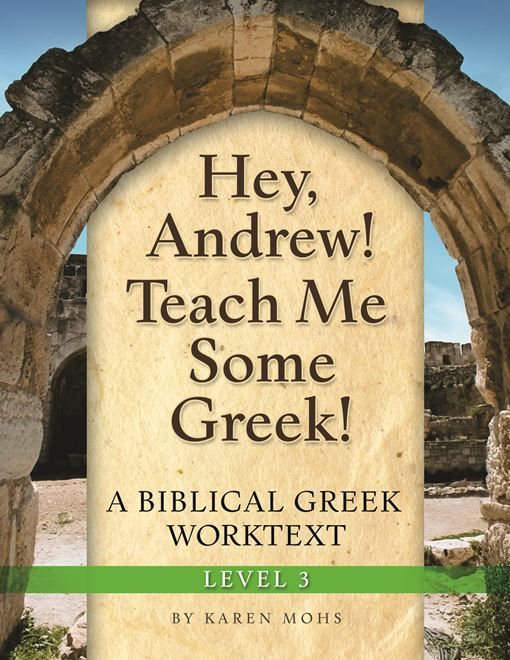 What is Hey, Andrew! Teach me Some Greek! - Level 3 Set from Greek 'n' Stuff?



Hey, Andrew! Teach Me Some Greek! series includes Level 1 through 8. I received Level 3 which is intended for 4th grade and up, students who have completed Level 2, or older beginners who want to learn whether or not they've completed any of the earlier levels. My daughter is just beginning her Fifth Grade year, so it was perfect for her. The company recommends starting at this level for 4th graders and even if you are an adult and have no prior Greek experience, like me. The materials have weekly lessons and daily assignments. The first couple of lessons teach the alphabet at a pace of three letters per day and then the lessons begin to slowly teach vocabulary.
Basically, the learning consists of:
Workbook written practice assignments
Flashcard practice daily With Vocalization of the Words (This is the KEY to the entire program)
Copy Work using an Interlinear Greek Bible (Bible Not Included in the set)
Practice
Practice
Practice
There is very little to no parent/teacher prep. There are some brief instructions and teaching tips in the Answer Key to help guide you, but it's pretty much an open book, easy-to-follow format. There are 36 lessons in the book, but the emphasis is on learning and mastering a concept before moving on. It's more important to practice until the student feels confident in the newly learned skill rather than to move forward unprepared. Here is an example of what the Teacher Lesson Tips looks like:
The book takes a gradual approach and builds the student up each day with reinforced learning and doesn't suddenly drop you off a cliff expecting you to speak fluently suddenly, which is what many foreign language courses tend to do. Level 3 approaches grammar in what is called an inductive format. That means it takes parts to whole as opposed to how they approach grammar beginning in Level 4, which is a deductive format, in other words, whole to parts.
The workbooks are set up with the intention of the student completing one workbook page each day along with flashcard practice, however if you are an older student, you may be able to complete more than one page per day.
I received a nice spiral-bound paper back student workbook and an answer key that is also paperback, glossy covers, and a pronunciation CD.
The Answer Key provides teaching tips and brief instructions for each lesson and then contains a complete student workbook with the answers filled in and an appendix along with flashcard tips.
The student book is set up with 36 lessons and a nice appendix filled with helpful learning references and tips. The back of the book contains pages of flashcards to be cut out and used for memory learning work.
How Did We Use It?
Flashcards
One look at this page, and my daughter lit up - "Is that the Pi symbol?" So, she was hooked. She recognized a Greek letter and wanted to know more.
We were so happy to see that the workbook included activities such as drawing, one of my daughter's favorite things to do.
What Did We Think?
First of all, I have to say that I absolutely love the name of the company. The 'n' stuff" part of the name takes a sophisticated sounding study and makes it sound as if even we common folk (I speak for my family) will be able to grasp it. I knew basically nothing about Greek going into this and neither did my daughter. When my daughter first saw the letters, she was amazed. But, it didn't take long, and I'm talking the first day here, before she was excited and encouraged that she could tackle this. My favorite part of the study is the copy work using a Greek Interlinear Bible. The book suggests starting in the Gospel of John and practice writing/copying the original Greek text. I really appreciate the learning approach these book and CD use in reinforcing the concepts over and over until you master it.
FIND Greek 'n' Stuff ON SOCIAL MEDIA @:
Read what other members of the Homeschool Review Crew thought by clicking on the picture below: