I have two high schoolers who are due to take the ACT soon and an elementary level child who is petrified to learn algebra, so I was thrilled to get a chance to review
No-Nonsense Algebra
from
Math Essentials
- A complete system for teaching algebra with access to online video tutorials.
What is the PRODUCT?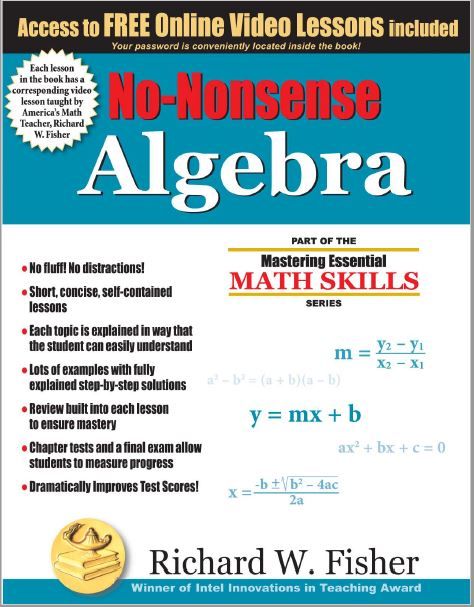 First, let me explain that it is so much more than a book, and is a unique systematic, step-by-step approach to learning. With the book, you receive a code to access online video tutorials. To get started, your student gets out a pencil and paper, has access to the internet and the book. First, you log on and watch the short video lesson as you copy down and work math problems while you watch, right along with the instructor. After working the video, you move to the book where you also use it as a math text alongside paper and pencil for working the math problems.
The book is the winner of Intel Innovations in Teaching Award, written by Richard W. Fisher, and each lesson in the book has a video that goes along with the lesson taught by Richard W. Fisher.
Each lesson includes:
Introduction to each new topic
Helpful hints
Examples
Written exercises
Review
There are 10 chapters that include:
Necessary Tools for Algebra (22 lessons and a Review)
Solving Equations (9 lessons and a Review)
Graphing and Analyzing Linear Equations (6 lessons and a Review)
Solving and Graphing Inequalities (7 lessons and a Review)
Systems of Linear Equations and Inequalities (4 lessons and a Review)
Polynomials (13 lessons and a Review)
Rational Expressions (Algebraic Fractions) 10 lessons and a Review)
Radical Expressions and Geometry (10 lessons and a Review)
Quadratic Equations (6 lessons and a Review)
Algebra Word Problems (8 lessons and a Review)
Followed by:
Final Review
Glossary
important Formulas
Important Symbols
Multiplication Table
Commonly Used Prime Numbers
Squares and Square Roots
FractionDecimal Equivalents
Solutions
Access to Online Video Lessons
I received a paperback, glossy cover 275 page book that also allowed me some access to online videos to use for teaching. The book can be used as a main curriculum, lesson by lesson, or as a supplement for tutoring or to help boost ACT/SAT or other standardized test scores.
Here's how the lessons work:
You log onto the video lessons with pencil and paper in hand. The video instruction is brief and to the point but walks you through easy-to-understand examples that the instructor encourages you to work along with him. The videos are not an instructor standing in front of a classroom but rather more like a whiteboard where he works the problems as he verbally walks you through them. His voice is easy to listen to and actually a bit soothing.
Then, you are instructed to open the book and work through the corresponding lesson. The book is not a workbook but more of a text, so you are again asked to use paper and pencil and work the exercises that follow some well-described examples. Each lesson in the book includes Introduction - Examples - Exercises - and Review problems.
Each chapter is followed by a Review Exam style of questions.
There are also a few gray highlighted boxes throughout the book that include helpful tips as well as resources in the back of the book like:
multiplication table
square roots table
fraction/decimal equivalents
commonly used prime numbers
important symbols
important formulas
I had read that using this book has been proven to boost test scores. When trying to make a choice as to which child should use this. I concluded that my older two high schoolers would benefit most because they are both slotted to taking the ACT soon, however, both of them have already made their way through Algebra level math. My sophomore has shown a lot of interest into learning more algebra in order to do well on the standardized testing, but I also thought my son would benefit as well to use as a review. My other choice was whether or not I should introduce it to my youngest, who is now a Fifth grader but so petrified to learn algebra. Before handing it over to any of them, I sat down to see what the program was all about and worked through lessons myself. While all three of them would definitely benefit from the approach of this algebra teaching system, I decided that it would work best for us to use it as a supplement to our current math curriculum.
What Did We Think?
I really liked this approach. One thing that works well is that the lessons are short and to-the-point but easy to understand. I enjoyed that the videos were not trying to bring a classroom into our homeschool via video but rather it included true instruction, showing only the whiteboard with actual math problems being worked as the instructor explained how and why each step was done. It was pure instruction, but easy to understand. It wasn't just video or just a text. It is a combination of both that reinforces audio,, visual, and hands-on learning styles. . I love that it asks the student to work the problems right alongside the video instruction using pencil and paper. I also love that the solutions to the book's exercises are included in the back of the book. Another highlight is all of the reviews, including a nice final review to make sure your student is learning before proceeding to higher level math. I'm looking forward to seeing if it helps my older two improve their ACT test scores.
FIND MATH ESSENTIALS ON SOCIAL MEDIA @:
Read what other members of the Homeschool Review Crew thought by clicking on the picture below: