The following is a product review: My oldest daughter, age 11, has been begging me to integrate piano lessons into her daily homeschooling. Usually quality piano lessons require driving your child to a music store or someone's house or paying someone to come to your house for a private lesson, but I found this level of teaching through
Adventus
, a company which offers piano lessons software, when I was asked to review their program for homeschoolers. With
MusIQ Homeschool,
I never leave the house to drive across town for a lesson. Yet, I'm receiving high-level interactive personalized teaching, and at-home practice sessions never sound like me screaming:
Practice... PracTICE... PRACTICE!!!
Chances are your child won't even realize they are practicing because the entire program feels more like a fun reward.
Piano is a wonderful instrument to learn because you not only learn the mechanics and rhythm of how to play an instrument, but the piano naturally calls for learning some amount of theory too in order to be able to play well. And, because the homeschooler teacher in me is always looking for a way to integrate history and other subjects into everything we do, I was thrilled to discover that
MusIQ Homeschool
from
Adventus
includes music history in the lessons as well.
Children can learn to play the piano at their convenience to fit it into your homeschooling plans. Here's how: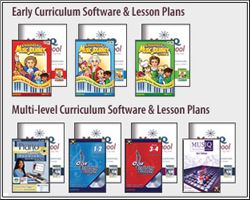 The entire program is intended for children between the ages of 4 to 18 as recommended:
The Children's Music Journey Vol. 1, 2 & 3 is intended for children ages 4 to 10.
The Piano Suite Premier is intended for children ages 10+.
The curriculum is laid out to take as many as seven years to complete and includes more than 20 levels from beginner to advanced intermediate piano. The lesson plans contain:
-Detailed objections
-Activity sheets
-Quizzes
-Assessments
-Hundreds of tips.
Learning proper finger and hand positioning using a grapefruit
The program is well thought out and extremely comprehensive. I liked how it not only taught notes and finger positioning but also integrated history of composers into it in a fun way that presented the information so my children wanted to learn more, and I liked how the programs were interactive.
My girls like it because it's fun!
Each lesson seems to take anywhere from between 15 minutes to an hour. I found that once we got going, it was very easy to just keep going from one lesson to another, but the longest we worked at one time was probably a little longer than an hour.
The lesson plans clearly lay out each lesson along with the activity sheets and which learning games to play that accompany the lesson. My girls had fun coloring, doing worksheets, learning history of the composer and following along with the computer program. My older daughter had a blast in Composer Corner where she created her own songs, and it recorded them and played them back for her. Both girls enjoyed the Game Room and the MusIQ program even made practicing fun.
They actually ask me when they can play the piano more.
It's a personal piano lesson in your own home that your child can learn and have on hand to re-watch if necessary. You can't get that from a traditional piano lesson. The actual computer program required very little hands-on from me once they got the hang of it. I did sit with them until they were well acquainted with how to work with the program.
I received the MusIQ for Homeschool product from Adventus for review in the form of PDF downloads of the MusIQ lesson books along with these software program downloads:
-Children's Music Journey Vol. 1, 2 & 3
-Ear Training Coach 1 & 2
-Ear Training Coach 3 & 4
-Piano Suite Premier
I started my six-year-old out with the Children's Music Journey Vol. 1, and my 11 year old began with the Piano Suite Premier. I also dabbled with the Ear Training Coach. I kept uncovering new delightful discoveries at every turn. There is so much to this program that comparable private piano lessons elsewhere would probably run into the thousands of dollar range before you were done with just one child.
You can order the program in a couple different ways:
-Online homeschool subscription for
$10.95 a month
(The lesson plans are not included in the subscription price).
-
Complete MusIQ Homeschool Bundle
contains all of the programs, lesson plans and a MIDI keyboard - $489.95
This is the complete package of seven years' worth of lessons which can be watched. Consider that a piano lesson typically costs between $15 to $35 a lesson or more, and it doesn't take long before this Complete MusIQ Homeschool Bundle become a real learning savings deal. Plus, you always have the lessons available to re-watch and practice until it's really learned.
-
Children's Music Journey Bundle
includes lesson book and MIDI keyboard - $309.95
-
Year One Quick Start Bundle includes
Children's Music Journey Vol. 1, lesson book and MIDI keyboard- $199.95
-Order the lesson plans only for $29.95 each or the Children's Music Journey individual volumes for $89.95 each.
The program is available for Windows or Apple based computers, and
Adventus
provides
MIDI keyboards
that interact well with the
MusIQ Homeschool
program as well as the proper cables that are needed to connect the keyboard to your computer. Of course, if you already have a MIDI keyboard that you want to use, following are some tips to get started.
Some Helpful Tips on Getting it Set Up:
Before you begin, decide where you want to set up your keyboard, and make sure it's in a spot near your computer. I used a computer laptop and set it on top of a thick book so it was level with the piano keyboard making it easier to go back and forth between the computer mouse pad and the piano keyboard during the lessons.
I have an older electronic keyboard, a Casio CTX-481 model with 61 keys, and my finicky Windows 7 program on my Dell Inspiron could not find a driver that made it happy. I eventually loaded everything onto my Dell Latitude laptop that runs on Windows XP and voila! Everything ran beautifully!
The only additional item I needed to buy was a MIDI usb cable. I picked up a 2.0 USB MIDI cable off of eBay for less than $5 shipping included. I connected the MIDI In/Out ports to the keyboard and the USB jack to my computer and walked through the program's sound setup that was quite easy to follow.
Be patient if you run into difficulty with set up and feel free to contact the company's support. They are more than willing to help. Of course, Adventus has MIDI keyboards and cables available that work well with the MusIQ program, so if you purchase the curriculum as a bundle with the keyboard included you don't need to buy any additional components. Once the program is set up and running it's truly amazing!
Read more reviews from the
Schoohouse Review Crew
or click on the picture below.

Disclaimer:
I received a free copy of this product through the Schoolhouse Review Crew in exchange for my honest review. I was not required to write a positive review nor was I compensated in any other way. All opinions I have expressed are my own or those of my family. I am disclosing this in accordance with the FTC Regulations.