I didn't think it was possible, but I
think even I have fallen in love with math through TouchMath after having the privilege of reviewing the
TouchMath Kindergarten Homeschool curriculum for the past several weeks. And, I often heard my child asking when she could do math again.
Following is a short video that summarizes how we used TouchMath Kindergarten Homeschool:
From the moment it arrived, even the box it came in was inviting:
Let's Face it - If it Involves a Cup of Coffee and a Fireplace - I'm All Over it!
I decided to sit down with a cup of coffee in front of my fireplace and get to know the TouchMath Kindergarten Homeschool curriculum. It took me a couple hours to go through their website links and to read about how to use the TouchMath Kindergarten Homeschool curriculum. After that, it only required a brief read-through of no more than about 15 minutes each before presenting each lesson plan.
The lessons are laid out well and explain everything you need to know to teach each lesson. It comes with a checklist to check off every skill as your child learns it and has a list of materials needed for each lesson. Here is how my teacher work area looked when using the curriculum:
Kindergarten Unit A B C D
6 module guides with instructional strategies
90 student activity sheets
6 assessments (one per module)
. . .
And, I absolutely loved how the curriculum integrates other subjects, like science, into the lessons about math. For instance, I had no idea that giraffes had such long tails and tongues; and my daughter had a blast with the sink or float experiment while learning math-related vocabulary, like "heavier" and "lighter".
Some days my daughter was able to finish several lessons. Other days, we only accomplished one or worked with the manipulatives or the TouchMath Tutor software, but it looks as if it is designed to finish approximately one lesson sheet, or new concept, a day and one module a week to complete the entire Kindergarten level in a typical 9-month school year.
The curriculum is available at the
TouchMath
website along with tons of manipulative options that can be purchased separately as you desire: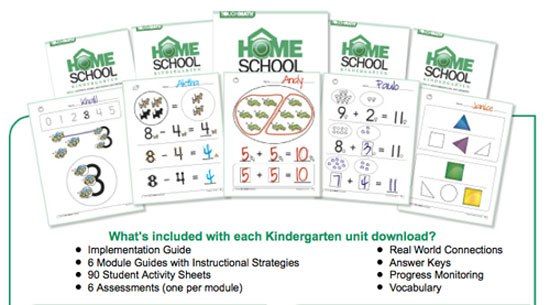 Cost of the Core Curriculum:
The manipulatives are not required to successfully use the curriculum, but I found that my daughter got very excited about them and that it helped to bring the learning to fruition for my kinesthetic, very active, learner.
We jumped in with the TouchMath Tutor software which was so fun and really helped seal the understanding of how to use the touch points on each number. It also works well to use the software as an award for your child in between lessons or to take one day a week for the software.
If you decide to only purchase one manipulative, I would highly recommend the 3-D Numerals. They made my daughter ask to do more because they were so colorful and allowed her to touch and feel what she was learning. Besides that, her older siblings were actually a bit jealous of the fun colorful 3-D Numerals, so I read ahead as to how to integrate them into multiplication and division for my fifth grader too.
The 3-D Numerals come with a CD for the computer that is filled with instructions on how to use the 3-D Numerals as well as tons of practice sheets you can print out from your computer. If you choose to buy the 3-D Numerals along with the curriculum, I would highly recommend popping in the CD and printing off the activity sheets before you do anything else because it will give you and your child a complete understanding as to how to use them and, if your house is like my house, your child will get very excited about using them and want to do more math.
The Touch Shapes are similar to other shape sets we have used in the past, but these are durable plastic and transparent which allow them to be used on an overhead projector in a classroom setting. We are perhaps unusual homeschoolers in that we do have an overhead projector which I would have liked to have used with these to project onto the wall. However, our overhead projector lightbulb is burnt out.
We separated the TouchShapes into zip-closed plastic bags to make them easier to work with:
Actual Learning Takes Place with TouchMath
There has been a lot of years of research put into this math curriculum and with the child's learning needs always at the forefront of the development. I learned that t

he developer of TouchMath taught for more than 15 years in elementary classrooms and was devastated to discover sixth grade students she began with one year could not do basic multiplication or division. She worked with a friend who was a special Ed teacher and developed the TouchMath method. By the end of the year, 97% of her students were successful. They developed the touching patterns after they observed how children learned over a five-year period.
A Word About Common Core
After opening the box, I quickly discovered how extensive this program is. It has separate modules that are divided based upon Common Core Curriculum requirements that are clearly listed. If you are a homeschooler who has been hearing the horrors of Common Core, don't stop reading or let that scare you. This curriculum was developed long before Common Core was introduced. The state where I live does not yet require homeschoolers to follow the Common Core, so until now, I have only skimmed the proposed requirements and was initially overwhelmed at what seemed to be an endless listing of skills and abbreviations throughout the curriculum. However, after sitting down and actually reading through the lessons, I found it interesting to know the specific skills my child was learning and to know that it meets, and quite frankly exceeds, these guidelines.
. . .The idea behind TouchMath is to teach math in a manner so that the child actually learns math and not to just present lessons for the sake of checking off a box. . .
The TouchMath program has been around long before the concept of Common Core was considered. It won't take long before you realize that TouchMath is solid regardless of what curriculum requirements guidelines it's stacked up against because the years of hands-on research and development of the curriculum was always done with the student's learning needs at the center. Listing out the lesson plans in the latest Common Core format should not scare anyone away, and if your state already requires homeschoolers to abide by Common Core guidelines, you will be relieved to know that TouchMath makes it easy for you to keep a record of the skills your child is learning. Through it all, I found it to be a very solid curriculum program.
Disclaimer: I received a free copy of this product through the Schoolhouse Review Crew in exchange for my honest review. I was not required to write a positive review nor was I compensated in any other way. All opinions I have expressed are my own or those of my family. I am disclosing this in accordance with the FTC Regulations.