My 7th grade son and I have had the enjoyment of reviewing the
Essentials in Writing Where Students Learn to Write Grade 7 Ages 12-13
with Matthew Stephens from
Essentials in Writing
.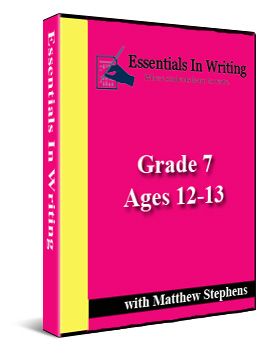 Essentials in Writing is a complete language arts curriculum that focuses on composition and teaching how to communicate with your reader through writing well. It aims to not just present material in a dry and boring rote manner, but to build confident writers who will learn to enjoy using their language skills in real-life, every day, day-to-day situations.
The instructor in the DVD video lessons is Matthew Stephens. He is also the creator of the Essentials in Writing curriculum and was previously a middle school English teacher but has taught just about every grade level.
I don't think it could be easier to use.
It really didn't require hardly any hands-on attention from me, as the teacher. However, I actually chose to sit through the lessons with my son because I wanted to learn as well. All that it takes to use Essentials in Writing lessons is their easy approach:
-Teacher: Look over the worksheet/assignment sheet for the lesson that is to be presented that day
-Student: Watch the video lesson
-Student: Complete the worksheet/assignment
The Cost:
Seventh Grade Curriculum on DVD with PDF printable workbook download - $40.00
What's Included?
There is a total of 53 lessons included on the 3-DVD set culminating with instructions on how to write and site a research paper. Building up to the research paper is instruction on how to write:
Descriptive Writing
Persuasive Writing
Narratives
Business Letters
Essays
Here is how the lessons look on DVD:
Get a complete description and Table of Contents for the Seventh Grade curriculum at the
Essentials in Writing website here
.
The lessons came in a convenient DVD pack that contained three DVD lesson discs. Also included was an entire workbook in PDF file format which made it easy to print out each lesson.
Because our DVD player is an older model and sometimes has issues playing a DVD without skipping, I soon opted to try it out on my son's computer instead. I inserted the DVD in his computer, which runs Windows 7, and the DVD played great and was easy to watch.
It would have also been easy to also let him just view the worksheets on his computer as well in PDF format, but I printed them off instead. He's very competent on the computer, but sometimes I just feel like it's important to have him feel a pencil in his hands.
I really liked the way the curriculum was presented, and I really liked how they made the shift from almost pure grammar lessons into learning how to write at this 7th grade level. It created a great balance of reviewing and integrating grammar lessons while introducing real writing work.
I was extremely anxious to jump into the meat of the writing portions, but began from the start which covered some grammar mechanics as well. The video presentation was clear and easy to follow in bite-sized lessons that offered just enough to get my son's mind reeling but not too much as to overwhelm him.
I even heard him bring up the terms later throughout the days that followed, such as hyperbole, as he would pick these terms out in real-life speech that he would hear. I loved that because it showed me that he had really learned from the video presentation. I also found the worksheets to be easy to understand and pertinent.
Please read what other TOS Review Crew team members thought of Essentials in Writing, complete with other grade levels,
here
Or click on the picture below:

Disclaimer:
I received a free copy of this product through the Schoolhouse Review Crew in exchange for my honest review. I was not required to write a positive review nor was I compensated in any other way. All opinions I have expressed are my own or those of my family. I am disclosing this in accordance with the FTC Regulations.