Everyone is a leader, but everyone has a different gift to bring in their leadership style. Being a homeschooling parent of children who express their leader side only when they feel like it, I was excited to receive these books to review with my children. The following is my review for
U.N.I.Q.U.E. KIDS: Growing My Leadership Garden
paperback book from
Leadership Garden Legacy
that I received.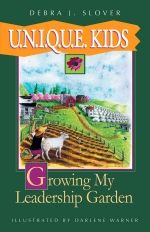 I also received
U.N.I.Q.U.E.: Growing The Leader Within
.
I received three physical books along with PDF and MP3 audio downloads:
Physical Books included:
-U.N.I.Q.U.E. KIDS: Growing My Leadership Garden - $18.95 - This book was written at a child chapter book level, intended for ages 5-12.
-U.N.I.Q.U.E.: Growing the Leader Within - $18.95 - This book was written for a teen to adult level.
-The Leadership Garden Guidebook - $18.95 - This book intended to be used for discussion with high school to adult level
PDFs and MP3 Downloads included:
-U.N.I.Q.U.E. KIDS Activity Guide & My Leadership Garden Journal, intended for Grades 3-5 - $8.95
-U.N.I.Q.U.E. KIDS Audio Book MP3 download, intended for Grades 3-5 - $8.95
-U.N.I.Q.U.E.: Growing the Leader Within Audio Book MP3 download, intended for teens to adults - $14.95
I looked over the information and began to read from the teen to adult level book to my children. When my 5th grader heard that the main character of the story was a lamb, she got very excited.
She loves lambs.
She all but grabbed the kid level chapter book from me and began to read it to her younger sister. She then continued until she had devoured every chapter and even wrote a miniature review of what she thought of the book. This is what my 11-year-old daughter wrote:
Growing My Leadership Garden is a fantastic book about a sheep who has run away from the flock to get away from coyotes who tried to eat his mother. His name is Hugh. Hugh finds the leadership farm where a woman named Leda shows him how to plant his leadership farm on the inside. Hugh thinks he is a coward for not helping his mother. On his U.N.I.Q.U.E. tour he meets many friends and learns how to make sure weeds don't grow into his leadership garden. Does Hugh become a leader? Find out by reading the book.
I had also begun to play the MP3 audio download of the book, but my daughters preferred reading it themselves.
The book uses a very cute story with characters that tell the story of how to plant and grow your own leadership garden. And - Yes, there are other characters besides the lamb. Most of them are farm animals, a dog named Annabelle, and two farmers - a woman and a man.
The author uses the acronym, U.N.I.Q.U.E. which stands for:
U - Understanding field
N - Nurturing meadow
I - Inventive roost
Q - Quality yard
U - Unstoppable pasture
E - Expression pen
Using a lamb, a dog, a farmer and other animals was an extremely cute idea that even a child can easily relate to. I like that these characters help to seal the lesson of how to cultivate the leader from within.
The author approaches the story as an allegory and metaphors to walk the reader through a process of uncovering hidden set backs that are keeping us from blossoming to becoming the full leader we have the potential to be.
Whether you read the story for younger students, or use the book intended for high school through adult, the story is cute and easy to read. But, in my opinion, the real depth of what I reviewed is in the exercises. The exercises slowly walk you through discovering what your leadership style is and what is holding you back from expressing your full potential.
I have a background in counseling and psychology, including a human services degree and worked the phones at the suicide hotline and also worked with probation and parole psychological caseload for a practicum while in college.
So, I've seen my share of psychological questionnaires.
Honestly, the exercises and activities that are part of this program are of the quality of professional seminars I attended when I was still working full time in the workforce.
As I worked through the activities, I was assessed dead-on properly as a Harmonizer style of leader. It reaffirmed that my challenge as a Harmonizer is not to take the words and actions of others personally. "When facing disagreement, always speak out or stand up for ideas that can make a valuable contribution."
It is not intended to be a religious-themed program, but seems to take a synergistic view. Still, much of what was presented parallels Bibilical principles. S
ince our mission as a family and as a homeschool is to learn, laugh and
grow in Christ, I used the story and the activities as a launching pad to explain how this leadership seed inside of us is only powerful if Christ empowers it.
The author is offering The Old Schoolhouse readers a 20% "Spring Special Discount" on all of the available Empowerment Tools. This offer is good through May 31, 2013.
Enter code: TOS-SS20D at checkout.
Read more Schoolhouse reviews for other study guides
here
, or click on the picture below: