We have had the awesome privilege of reviewing
e-Science
from
Supercharged Science
.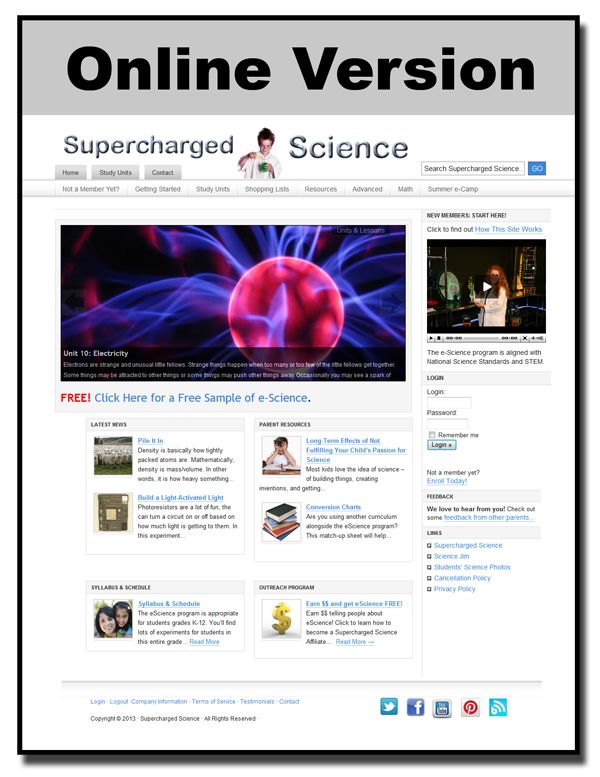 This online science learning program curriculum is jam-packed with so much learning that you will never need a textbook again. Of course, you can also use the program as a supplement to any science curriculum if you prefer.
The e-science K-8 membership is $37 per month
Add Grades 9 through 12 for an expanded program, that includes K-12 for $57 per month.
You don't have to be a rocket scientist to use this program – Really! The presenter, Aurora Lipper, however, is an actual rocket scientist who worked for NASA. When it comes to science, she knows what she's talking about; and it shows.
I was absolutely flabbergasted that a person with this much knowledge about science also has the ability to break it down for those of us who are a bit overwhelmed with scientific concepts. Yet, she never comes off as talking down to the viewer.
She has put so much information into this program. She is really excited about sharing her knowledge in a way that motivates and excites others.
This is good for me, because - Ask my kids. They know! I am notorious for trying experiments that somehow never work out right for me. My son jokes that the only science experiment I get right are those that involve gravity.
When I learned science, it was in an extremely boring classroom with an even more boring textbook. Yet, I am determined to not allow my children to become bored with the thought of learning science. So is Aurora Lipper.
That's why she has put so much into these lessons.
…Enter Supercharged Science e-science online learning program. (This is where you are supposed to cheer with loud, thunderous applause)…
I will be honest and tell you that I was a bit nervous about figuring out how to use such extensive knowledge. So, I listened carefully to the How-To video before I did anything else. Let me tell you, this woman had me enthused and feeling a sense of empowering confidence that I don't usually feel when it comes to science. I also had to smile a bit as all three of my children exclaimed that the instructor looked just a lot like their dear old mama, me. So, maybe I could pass for a rocket scientist after all.
The program consists of nine master steps:
Unit description
Outcomes/goals
Objectives/Highlights
Introduction – How to present the material to the students in a way that sparks their interests
Development – Motivates students to learn
Practice – Experiments that bring the learning to life
Further Study – Answers questions with reading materials
Evaluation
Closure – Celebrate successes. Share photos and comments.
Experiments are presented with a video guideline to get you excited about it and to understand It is science from the inside out. First, get your student curious. Then, seek for the answers.
It incorporates all four learning styles:
visual with videos
auditory with teleclasses
kinesthetic learners experiments
digital learners can read through the lessons on the screen or printed out.
Let me tell you, all three of my kids must be kinesthetic learners because it was the experiments that got them excited.
Experiment with polarized lenses
Experiment with lenses and the sun - catching a dry leaf on fire!
If you need to, you can even type in a question, and you'll get an answer back right away.
We explored the K-8 level with my children who are Kindergarten/1st Grade, 5th Grade and 7th Grade. However, it is not pigeon-holed into specific grade levels. You are free to explore at your own pace, and all three of my children watched the same video lessons and experiments and took part in the discussion. Of course, my oldest has deeper questions than my youngest. Each child took away something at their level.
Each lesson is intended to last 1-3 weeks, depending on how deep you dive into it. Each unit covers one key scientific principle.
Everything is online, but the lessons can also be printed.
The website states that the videos can only be played on a computer. However, I found a web browser for my iPhone 4S, called Puffin, that converts Flash video into an HTML5 format, allowing me to view the videos on my phone. This made the lessons completely portable. My daughter watched a science lesson video while we drove to gymnastics, and we even sat at the park on a nice day and watched. A Wi-Fi connection with a laptop would bring about the same portability as well.
We're also excited about the e-science summer camp and the robotics lesson – Both are coming soon.
Read additional
Schoolhouse reviews here
, or click on the picture below: