I was asked to review the
Talking Shapes iPad App
from
Talking Fingers, Inc.
with my early-reading/writing daughter.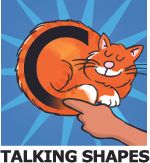 o ~ o .. o ~
o .. o ~ o

The app is geared toward children who are in Pre-K through Kindergarten level. It uses cute stories and memorable picture cues to integrate the use of letter sounds and letter shapes.
What makes it unique is how it uses phonemic awareness concepts of hearing, saying, and seeing each letter sound. It essentially takes letter shapes and creates a full word picture of learning so children use all of their senses to form each letter. It is a really fun first-step learning app for reading, writing, and speech.
Here's how it sounded and looked when my daughter used this app:
~ . ~ * ~ . ~ * ~ . ~ * ~
~ . ~ * ~ . ~ * ~ . ~ * ~
It connects each of the letters with an animal or object to help the child form a word "letter" picture that will pop into their minds whenever they hear that letter sound. For instance, the letter "C" is represented by a curled up cat, the short "E" sound is represented by an Elephant with feet and trunk pointing to the side. The letter "L" is represented by a Leg and foot. Once a new letter shape is introduced, it remains consistent throughout the stories and games.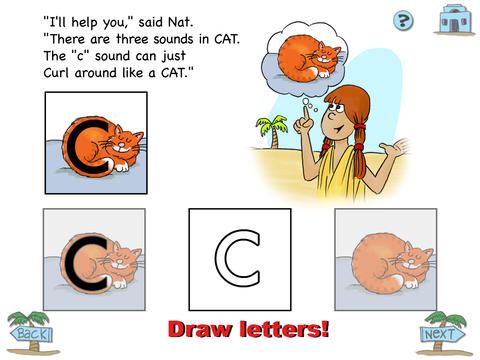 The main menu allowed my daughter to choose whether she wanted to hear a story read to her, draw letters, or play letter games.
The games included activities that help to associate the letter sounds within words and sentences.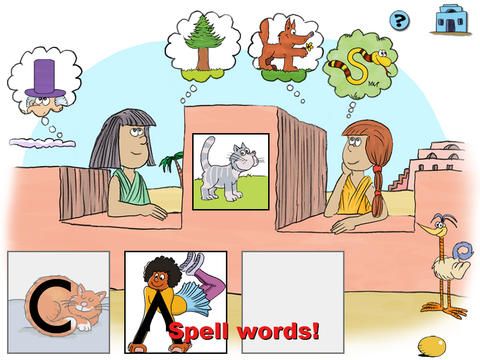 Price:
The Talking Shapes iPad app is available for $5.99.
What's Included:
All I needed was an iPad with iOS 6.0 or later, access to the iTunes App store, and a set of little fingers. The iPad we used is an iPad 2, not even the newest generation. Yet, everything ran perfectly.
How We Used It:
Since the program is recommended for Pre-K through K level children, I knew my daughter was on the older end, at age 7. However, I have been a bit concerned about how she is forming her letters when she writes, so I was anxious to use an app that taught this in a fun way.
As expected, she easily maneuvered the screens within the app while I pretty much just looked on and helped her with logistics. For instance, sometimes she would speak too softly for the mic to pic up her voice when asked to say a word. And, sometimes, even though she had just been shown how to form a letter shape, she would still start from the wrong end just to fill in the lines in the picture.
What We Thought:
We had fun with this app. I knew my daughter was on the older end going into it, but I still feel as if she learned more about proper letter formation after using this app. I also think that the association of the pictures to each letter sound is a very clever way to make the letter learning stick.
The stories were fun, and the animations and shapes used to form the letter sounds were vibrant and completely appropriate for an early writer/reader age child.
I will note that my daughter absolutely loves elephants, so we were especially pleasantly surprised to see the elephant being used to form the short "E" sound.
I think the app would be a very useful tool for any child who is learning letter sounds and shapes. We used it at home, but I could see it just as easily being a fun app to tote along to use in a waiting room or in the vehicle during a long trip or while sitting to wait for an older sibling.
Find
Talking Fingers, Inc.
on
Facebook
and
YouTube
.
Please read what other members of the Review Crew thought about the Talking Shapes iPad App by clicking on the picture below: