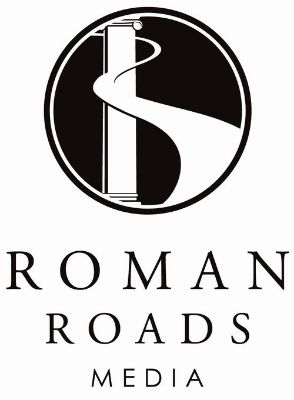 I have had the privilege of reviewing
Dave Raymond's American History 1 and 2
from
Roman Roads Media
, intended for 6th graders (at least age 12) and up. It is perfect for upper middle schoolers and early high schoolers, but those in higher level high school could get a lot out of it as well.
I received this as a digital download to be used at least three days a week throughout the course of the review. However, they are sold as a 4-DVD set for Part 1 and another 4-DVD set for Part 2 (total of 8 DVDs) for $100 each part, marked down now for $75 for Part 1 and an additional $75 for Part 2 ($150 for the complete 2-part year-long curriculum). I don't know how long this reduced price will last.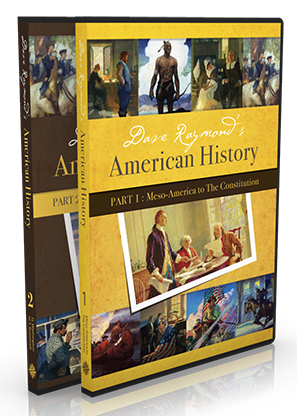 The curriculum includes a student text, a teacher's guide and video presentations. The format is in HD MP4 video files, and the Student Reader and Teacher Guides are in PDF, EPUB and MOBI. Pretty much every mode of reading it digitally is covered.
It offers:
Interesting video lectures
Reading assignments
Writing assignments
Project work
Portfolio project
The idea behind the curriculum is that history is better understood when it is presented through both godly wisdom and dramatic story telling. I found it fascinating how he consistently plugged in a Christian worldview throughout all of the presentations, including the characters, historical events, theology, literature art, and religious beliefs of the nation.
The projects require a lot of concentration, research, but they are also a lot of fun. Some examples of the projects, include:
A colonial mapping project where the student chooses a map and then creates a 10X14 work of reproductive art.
A speech where the student dresses in costume from the time period and presents information.
A research paper
After each lesson, the student is to complete a piece of a portfolio. The culmination of all of the lesson portfolios is presented in a scrapbook or sketchbook format which is wonderful to save for record keeping purposes.
Dave Raymond presents about 5 lectures per lesson accompanied with readings, which fits perfectly into a 5-day school week. Within each lesson are daily tasks and projects, followed by an exam every week. The history curriculum is designed to be spread out throughout a full school year, and is worth 1 History Credit. There are 26 lessons (13 per semester) and 4 projects.
The lessons in Part 1 include 13 weeks of study as follows:
Orientation
The Banner of the Sun: Meso-America
Brave New World: The Early Explorers
The Colossus of Empire: The Colonies
Stability and Change: The Reformational Colonies
A City Upon a Hill: The Puritans
A Foreign War at Home: Wars of Control
Grace, the Founder of Liberty: The Great Awakening
Fathers of Independence: Adams, Franklin, Witherspoon, and Henry
Liberty or Death: The Declaration of Independence
Awesome Providence I: The War of Independence
Awesome Providence II: The War of Independence
A More Perfect Union: The Constitution
My review covers mostly Part I, but here is a preview of what is in the lessons in Part 2 (The Second Semester of 13 lessons) include:
Federal Headship: George Washington
How Good and Pleasant It Is: Adams and Jefferson
Manifest Destiny: Settlers, Explorers, and War
Word and Deed: John Quincy Adams and Andrew Jackson
The Original United Nations: The Expansion of the Early US
Idols of Mercy: Revival, Counterfeits, and Art
A House Divided I: The Age of Compromise and Divided Cultures
A House Divided II: Abraham Lincoln and Secession
The Second War of Independence: The War Between the States
Brother Against Brother: The War Between the States II
The Lost Cause: Reconstruction
A New Normal: The West, Immigration, and Robber Barons
Theology as Biography: Theodore Roosevelt and Booker T. Washington
The really cool part of the entire curriculum is the portfolio that the student completes throughout the year, adding to it as he or she learns. The portfolio is to be well done, preferably set up in a scrapbook style that is not only enjoyable to look at, but is neat and provides a hand-held summary of what your student has learned.
HOW I USED IT / WHAT WE THOUGHT
I was thrilled for my high school newbie to get a chance to be exposed to this kind of learning. My son is entering the 9th grade, and he loves to look at the world through a Christian worldview. I've watched him cringe as he learns about history through other sources that talk about idols and mythology and such, so the way this program is presented makes me breathe a sigh of relief knowing that he will learn historical facts without compromising his deep faith.
It's designed in a way that I could turn him loose after just assigning each lesson. Dave Raymond is an experienced Classical education teacher from Franklin, Tennessee. He really explains everything so well that it's easy to follow his instructions. Each instructional video is approximately 10 minutes long, so they hold your attention span. Even though, I found the lessons to be self explanatory, I will be honest and vulnerable and admit that I watched and enjoyed the lessons as well. I wish my public school history classes would have been set up in this same way. I may have actually enjoyed it.
Find Roman Roads Media on Facebook, Twitter, Pinterest, Google+, and YouTube.