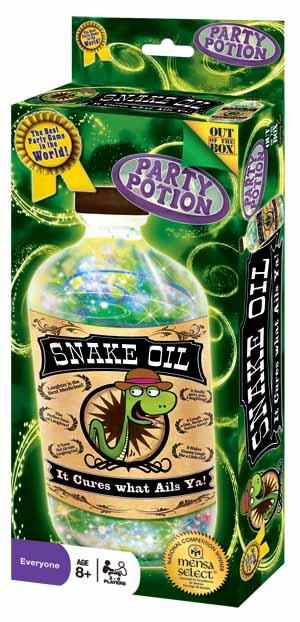 I received a game called Snake Oil Party Potion from Out of the Box Games for review.
The game is intended for children ages 8 and up (So, the entire family in our household could enjoy it). It is meant to be played with 3-6 players (again, ideal for our family of 5), takes 20-30 minutes per game, and the game retails for $14.99.
~
Step right up! This may be the only Snake Oil you'll ever buy and actually be happy that you did! The only trick behind this kind of Snake Oil Party Potion is that it will leave you with educational game time where the children won't even realize they're learning.
~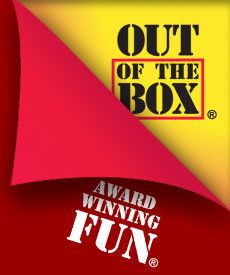 ~
Jeff Ochs and Patricia Hayes Kaufman are the masterminds behind inventing the game.
The basic rules only take about 5 minutes to learn:
Each player gets six cards
Select one player who will be called "The Customer"
The Customer takes a Customer Card, read it out loud, and then places it in front of him or herself as he or she takes on the role of the customer printed on the card
The other players try to combine two words to create a product for this particular customer, and then each player takes turns trying to sell their new word combination product with a verbal "pitch" that can only last 30-40 seconds each.
The Customer selects which two-word combo. card product and pitch he or she likes best and awards the Customer Card to that player.
Play continues until everyone has had a chance to be the Customer
There are a couple other variations of the game that are suggested as well. The makers of the game put together this cute and instructional video as to how the game works:
~
~
The game is a fun way to learn vocabulary words, spelling and word combinations as well as the basics to public speaking skills. It also provides a foundation for learning basic marketing or persuasive business tactics. In fact, it fits a whole host of Common Core Standards for learning. The part of it that excited me the most was the word combination, for my 8-year-old, and the public speaking practice (shh, don't tell them that this is what it really is) for my oldest who normally completely backs away from any form of "in-front-of-people" formal speaking. This game, however, allows all of my children to develop the skills behind persuasive public speaking without the pressure of a debate team or traditional speech class. It's very informal and downright fun!
~
There is a complete pdf explaining how to use it in a classroom setting. It provides lessons in Critical Thinking, Problem Solving, Empathy, Marketing, Visual Arts, Teamwork, Creativity, and even a brief history about what Snake Oil is and why the game is named after such a thing.
~
It's fast moving and hilarious at times, which is probably why it has earned itself several awards, including one from Dr. Toy, National Association for Gifted Children, Major Fun! Keeper, Mensa Select, The Toy Man, and other big name toy awards.
~
Find Out of the Box games on Facebook, Twitter, and YouTube.
~
The company also offers The Original Snake Oil game which is intended for ages 10 and up. Some members of the Review Crew received the original version. See what they thought, by clicking on the picture below.
~