I was excited to get a chance to review the
200 Questions About American History Set
with
The Story of the Thirteen Colonies & the Great Republic Set
(Grades 5-8) by H.A. Guerber all from
Memoria Press
.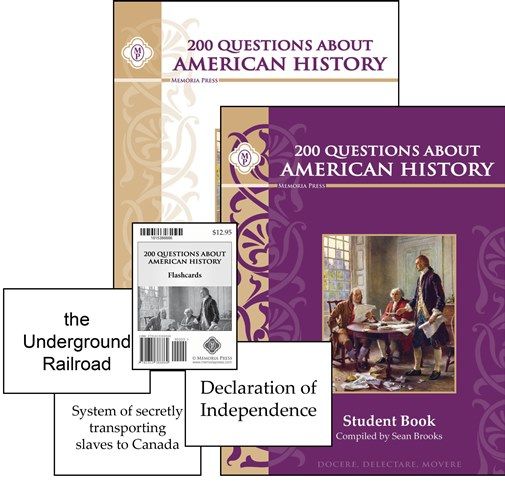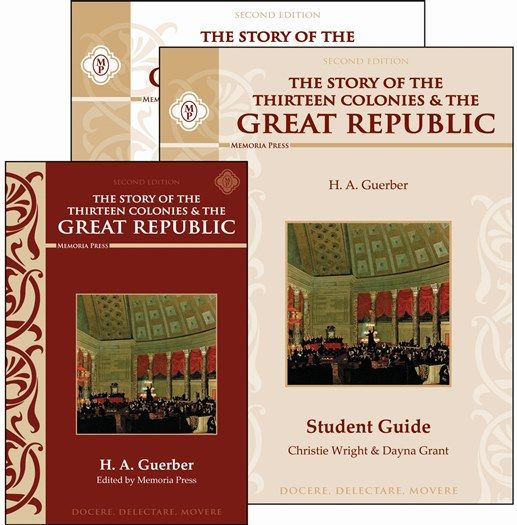 What is the H. A. Guerber set?
First, I want to explain who H. A. Guerber is for those of you, like me, who may not be familiar with this author. H. A. stands for Helene Adeline. She lived in 1859-1929 and was a British historian best known for her writing of Myths of the Norseman that was published in London in 1908.

I received quite an impressive package that contained both The Story of The Thirteen Colonies & The Great Republic paperback 211-page, 85 short chapters book with black and white illustrations, written by H. A Guerber, student guide and teacher guide as well as the 200 Questions About American History student book, teacher guide, and a set of flashcards. There are also tests provided in the teacher guides along with the test answer keys.

The 200 Questions About American History set also require the use of Volume IV from a 4-book series called The Story of the World by Susan Wise Bauer and refers to another book throughout the guides, Everything You Need to Know Abou tAmerican History Homework by Anne Zeman and Kate Kelly.

I used the two sets together as they work well to complement each other and provide a rich foundation of American Hitory knowledge for students in Grades 5-8.

200 QUESTIONS ABOUT AMERICAN HISTORY

The 200 Questions set is a list of 150 questions that sum up the highlights of American History. Also included is a collection of 20 famous quotes from great Americans, the first 44 presidents listed in order (I am assuming the book was printed before #45 was elected) along with significant happenings that occured during their presidency, and a timeline of 30 important dates to remember. Add these sections up, and you get 200. The end of the student book includes the words to the Star Spangled Banner and Captain 'O Captain for memorization purposes.

The flashcards are set up in the same format, with 150 drill questions on one side and answers on the back, 44 president questions with the names of the presidents on the back that correspond with the fact, and timeline question cards.

The first couple pages of the guide books include a recommended text and weekly schedule to complete in 34 weeks that are set up with approximately 4 days of chapter readings and student book work, one day of test review, followed by, or beginning each new week with a test.

THE STORY OF THE THIRTEEN COLONIES & THE GREAT REPUBLIC

The Story of the Thirteen Colonies & The Great Republic packet includes the book with the same title by H. A. Guerber. Guerber wrote this two-volume set during the 20th century, and Memoria Press combined the two texts into one. The study guide follows this Guerber book and presents facts, vocabulary, and comprehension questions that corresponds with heach chapter of the book. It also includes Enrichment Activities that deal with map work, drawings, research, and writing assignments along the way.

The Teacher Guide includes 32 lessons with answers filled in and an Appendix with maps, a chart of the 13 colonies that includes dates and who founded each one, followed by copies of important documents, such as the Mayflower Compact, Paul Revere's Ride poem, Letters from George to Martha Washington, The Declaration of Independence, Excerpts from Thomas Paine's Common Sense, The United States Constitution, Emancipation Proclamation, Gettysburg Address, and Daniel Webster's Senate Speech in 1830, These are followed by tests for the students to fill out as well as a test answer key.


.
How Did We Use It?
Since we had just completed a unit in history and were looking for something more for my youngest, I latched onto this historic set to use as her main history study. I was asked to use it at least 3 days a week which works well for us since our typical homeschool weeks include 4 days of core subjects.
What Did We Think?
History is an interesting subject to me in that while I was learning it in school, I found it to be nothing but a bunch of boring dates to memorize which never stuck in my uninterested memory, yet when I began teaching it to my children, it suddenly began to come alive for me and have meaning that is pertinent to today. Since I now long to instill into them a good solid foundation of history knowledge, I was excited to get started with this set.
Once again, Memoria Press did not let us down. I found the set to be complete and comprehensive of historic fact about American history. My daughter is on the younger end of the recommended grade range, but I found it to be appropriate for her level and definitely appropriately labeled as being for 5-8 Grade.
FIND VENDOR ON SOCIAL MEDIA @:
Read what other members of the Homeschool Review Crew thought by clicking on the picture below: