I cannot wait to tell you about this hands-on history activity I was given a chance to review. I am absolutely thrilled to have been able to review
Make-a-State Activity
from
Homeschool in the Woods
which is part of their
Activity-Paks
series. Homeschool in the Woods is a hands-on history company that offers multiple product lines and plenty of historical learning for everyone.
Before I get started with the review, I want to tell you about their most recent addition to the hands-on history company's product line:
A NOTE ABOUT AN ALL NEW PRODUCT FROM HOMESCHOOL IN THE WOODS!
Home School in the Woods just announced

a new A-La-Carte projects !

This is a way to piece together each of the projects you are interested in without having to purchase the entire unit study!

SPECIAL OFFER:


Use the code

alacarte

at checkout to get the Erie Canal project on that page for free. The Erie Canal project has specifically been chosen because it is the 200th anniversary of the beginning of the canal this week!
Other members of the Homeschool Review Crew got to try out additional Activity-Paks:
Activity-Paks
*The Old Testament
*The New Testament
*Composers
*Artists
Still other members of the Crew have been working with
tons of additional products, so be sure to check out what they have to say about:
Time Traveler American
*New World Explorers
*Colonial Life
*The American Revolution
*The Early 19th Century
*The Civil War
*Industrial Revolution through Great Depression
*World War II
Lap-Paks
*U.S. Elections
*20th Century in America
*Wonders of the World
*Benjamin Franklin
*Knights
Timeline Trio
The following video explains the differences between each of their multiple product lines: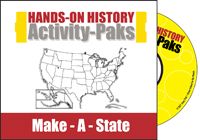 What is Make-a-State Activity?



Make-a-State Activity Pak is part of the Homeschool in the Woods Activity-Pak line of products which is just one example of what this hands-on history company offers from their multiple line of products. If you've ever done a unit study that uses a Lap Book as the central focus activity, then you have a pretty good idea about how this works. However, the Activity-Pak series offers more than just a lap book. It also provides suggestions for games and additional activities that correspond with the study. The nice thing about the Make-A-State Activity Pak is that everything is right there on the computer in a download, and you click on the links to print the materials as you need them for study and to make your Lap-Pak. There is always a Timeline included along with all of the printables needed. This study allows you to make a lapbook for each of the 50 states, and this particular study also came with a State Folder Game - Name That State.
Each of the 50 state lapbooks cover 20 activities:
Key State Facts
Origin of State Name
State Motto
State Symbols
State Song
State Industry / Agriculture / Climate
State Wildlife
Regions
State Geography
State Government
State Seal & Flag
State History
Famous People From...
Native Tribes
State Landmarks
Sports Teams
State Quarters
Recipes
State Vocabulary
State Timeline
Bonus:
State Pages that provide summary information about each state as well as Washington D.C.
Name That State File Folder Game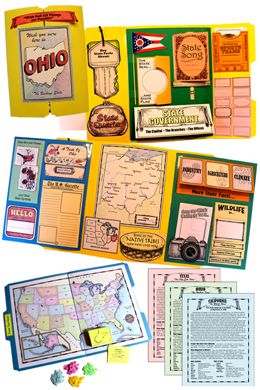 I previously had the privilege of reviewing
Project Passport World History Study: The Middle Ages
, and
HISTORY Through the Ages Project Passport World History Study: Ancient Greece
from Homeschool in the Woods, so I was excited to get to take a look at the Make-a-State Activity-Pak.
My 10-year-old absolutely loves lapbooks and anything hands-on or artsy/craftsy. So, this is right up her alley. I was so excited because we began the study of the states last year but never finished so this couldn't have come at a better time. Also, we are planning a trip to WI and MI this summer, so I wanted my daughter to be fully knowledgeable about her surroundings as we visit.
What Did We Think?
I absolutely love the in-depth study that corresponds with the hands-on activities in these Paks. Of course, it requires making sure your ink cartridges are full and ready to print before you begin, but the final product is a nice, easy-to-file record of your child's work. Ultimately, anything that is hands-on is a hit with my youngest, so Homeschool in the Woods hits the mark for us since it's a hands-on history company that offers multiple product lines, with the history information-packed Activity-Paks series being one of them.
FIND HOMESCHOOL IN THE WOODS ON SOCIAL MEDIA @:
Read what other members of the Homeschool Review Crew thought of the Activity-Paks series, Timeline Trio, Lap-Paks, or the Time Traveler American series by clicking on the picture below: