I have thoroughly enjoyed the opportunity I've had of reviewing a product from
Memoria Press
called
Geography I
curriculum, with The United States supplement.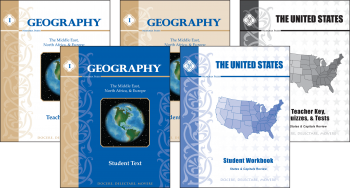 We were already extremely familiar with, and I absolutely love, the Memoria Press Prima Latina program. When I saw that I had a chance to review their Geography I books, I jumped at the chance. To this point, my experience with Memoria Press continues to be a pleasant one.
A few years ago, my son's attitude toward learning prompted me to pray and seek out another way to teach so he would be interested in learning. What I found was a Classical Education approach. This approach was the answer to my prayers, for him, and I embraced it. Since that time, I have discovered that he responds best if I use Classical education as a foundation and modify it for our needs, but Memoria Press always has a positive connection in my thoughts.
The Geography I books are equally impressive. I received a packet of five glossy paperback books, which are available as a set for $48, or sold individually as follows:
• Geography I Text, 103 pages, including a few pages of colorful flags - $14.95
• Geography I Workbook, 90 pages - $11.95
• Geography I Teacher Guide, 90 pages + several pages of quizzes and tests - $12.95
• United States Review Student Workbook, 25 pages - $5.00
• United States Review Key, Quizzes and Tests, 95 pages - $7.95
The Geography I books covers the area that made up the ancient Roman Empire: The Middle East, North Africa and Europe. See a sample of the
Table of Contents here
. Additionally, there is a supplement that covers the United States.
The books are intended for 4th through 8th grade. Since my 5th grader is always struggling to learn geography and capitals, I thought it would be a good idea to have my daughter help me review the books.
Find a
sample of the Geography I Text here
.
Find a
sample of the Geography I Workbook here
.
Here's what I discovered:
My daughter's favorite way to learn is to read material on her own, and then follow the work pages in workbooks. I showed the student books to my daughter, and very quickly discovered that I could use them in a very teacher hands-off manner. These books are self explanatory to a reader at her level, and the teacher books provide further answers for quizzes and tests. Plus, the quick facts that were provided in a blocked off boxed format make it very easy to skim the material before delving deeper for more information.
The worksheets were at the perfect level for her, while providing thought-provoking questions and still allowing for some fun with coloring, which she loved.
The Student Text has a few pages in the back of the book that displays colorful flags of the countries.
The books present a solid foundation of information about various countries and about regions and capitals of the United States. They also whet the learning appetite to know more about some specific geographical areas and how they relate to historical facts as well as how it all ties together with other subjects. For us, this opened up discussions about places we have visited.
As to be expected, Memoria Press once again impressed me. These books are easy to use, and fun to do with a daughter like mine who thrives and insists on workbook style learning. The text presented tons of fast facts and a nice overview of each country. The workbook pages follows up on what is learned, and then there are review pages. The Teacher's Guide provides quizzes and tests with an answer key.
The geography books take a "Then and Now" approach, addressing what it was like in historical times and what it is like today. The teaching also lays the groundwork for the 5th Grade level, Geography II books.
The United States book takes a regional approach. The students learn about states based upon what section of the United States they are located. See a sample of the student
United States book here
, and a sample of the corresponding
teacher book here
.
The book introduces the states by region, in a fun-to-color map. My daughter loved this. She exclaimed, halfway through, "This is fun!" I got a kick out of watching her get excited, asking me which states we have visited, and then she traced her finger along the route we took and the route we plan on taking this year.
Please read,
here
, what other members of the crew thought of this and the Latin books from Memoria Press, or click on the picture below: