My son and I have had the privilege of reviewing
TeenCoder Java Series
and
Android Programming
from
Homeschool Programming, Inc.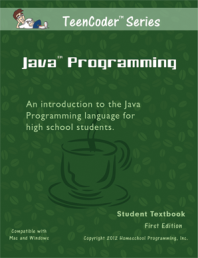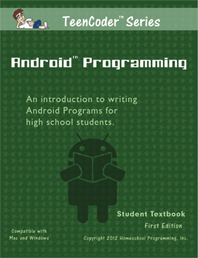 We received a download of the TeenCoder Java Series, which is a two-part/two semester course that includes first and second semester curriculum. The first semester covers Java Programming, and the second semester covers Android Programming. Both semesters are set up to be presented in similar ways, with lessons presented inside of chapters and a DVD video summary introductions to each chapter, for more visual emphasis.
We received both semester's course load as pdf downloads as well as two separate DVDs of video presentations that summarized each lesson in a fun recap with clipart style color animation and easy-to-read graphic fonts.
Everything he needed was in the downloads. The DVD is a bonus for students who are more visually motivated – which describes my son, who loved the DVD summaries.
The downloaded information required a PC that runs Windows XP or more current versions of Windows, or a Mac that is running at least an OS 10.5.8. My son downloaded it onto his Windows 7 laptop.
Since my son is our resident computer guru, when I received the link for the download, I just handed it over to him. I did the same with the DVDs, though I did take a peek at the DVDs, and I did check in on him throughout his work time to oversee his progress and to get an idea of what he was learning.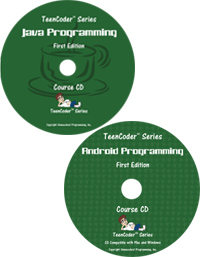 The curriculum is intended for 9th through 12th graders, so I knew my 13-year-old son, who is going into 8th grade this fall, was slightly under this age requirement. However, this child lives, eats and breathes computer programming languages, so I knew he would be excited about giving it a try.
From our experience, the TeenCoder Java Series seems to be an excellent computer science course. I have written for internet websites about programming as a profession, and this course appeared to be on par with some of the courses out there aimed at professionals seeking certification.
During the first semester, students learn about how to write Java code. In the second semester, they learn to write their own Android mobile device applications.
I was very happy that nothing additional had to be purchased. The learning took place using a free version of "the industry standard Eclipse development environment" which anyone interested in pursuing a career using Java programming needs to know.
Each chapter contains between one to four lessons and usually includes an activity at the end before continuing onto the next chapter. The chapters and lessons explain, in detail, a programming concept and provides sample coding examples. It uses hands-on activities, and allows students to write their own programs using the chapter topics as a guide.
Here are some screenshots of some of the projects he completed:
The course encourages students to put their creativity to work and to add their own personal touches to each project. We had so much fun with the programmed results, such as the program my son wrote in lesson 6 that automated a fill-in-the-blank style story using adjectives, nouns and adverbs that his sisters and I gave him. The program plugged these words into the pre-written story that my son chose to use, and the results were hilarious.
We were given 8 weeks to use the curriculum for the purposes of this review and were expected to finish at least one chapter per week. Out of the two semesters worth of work, working at a pace of an average of two chapters per week, we covered the 16 chapters in the first semester and downloaded the 15 chapters in the second semester's book to look it over and get started with that as well. My son has not yet plunged in with both feet yet on the second semester course work, but he has looked it over enough to get even more excited about Android programming. The layout of how the material is presented is very similar in nature to the first semester's format, only it will cover Android programming.
For most students, one hour per session is probably a good recommended estimate for pacing the work to finish within each semester. My son, however, doesn't like to break his focus once he's locked into a programming mode. He did not work every day on the projects, but when he did, he worked diligently for more than one hour at a time. One afternoon, he even spent five hours completely engaged in the course.
My son was able to complete the TeenCoder Java Programming course entirely during our 8-week review period, and he is looking forward to learning how to program for the Android as well.
The
TeenCoder Java Programming course and DVD
is $90
Just the Java Programming course is $75
Just the Java Programming video is $20
The
Android Programming course and DVD
is $90
Just the Android Programming course is $75
Just the Android Programming video is $20
Buy together as a bundle and save:
The
TeenCoder: Java year Pack courses and video
is $155
The TeenCoder: Java Year Pack courses only is $130.00
The TeenCoder: Java Year Pack videos only is $30
Please read what other members of the Schoolhouse Review Crew thought of this and other products from this company,
here
, or click on the picture below: